Meal2Grow | Organic plant-based nutrition supporting the growth and development of kids.
Specially formulated whole food nutrition for kids
Sneakz delicious organic plant-based nutrition powder has a full serving of vegetables, 10g of plant protein, probiotics, and 20 essential vitamins and minerals including Lutein, Vitamin K2, and Omega 3s. Meal2Grow is a gluten-free, soy-free, nut-free, vegan, and Kosher certified complete shake that is specially formulated to help little ones grow.
Vitamin C, D, and B plus probiotics combined with a full serving of vegetables boost immune function.

Replaces Daily Multi-Vitamin
Organic whole foods, including a full serving of vegetables plus vitamins and minerals, increase micronutrient consumption.

Calcium, Vitamin K2, and Vitamin D, as a trio, helps to ensure children's bones stay healthy and strong.

Vitamin A and Lutein are known to improve vision and reduce the risk of eye diseases.

1 Billion CFU's of probiotics, combined with our prebiotic fiber, protects against bloating and other digestive issues.

Our plant-based protein is made with organic, gluten-free, non-GMO pea protein to support muscle growth and development.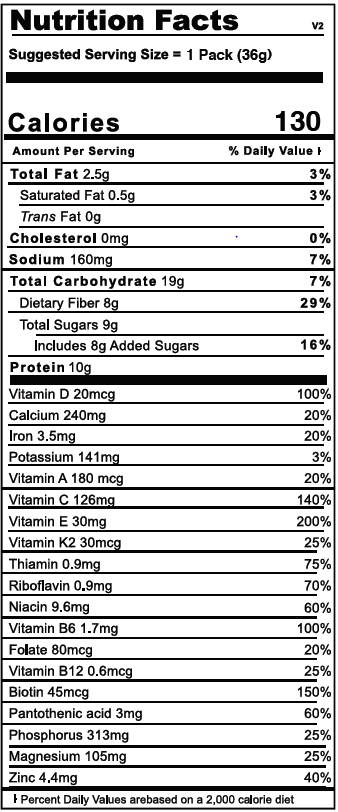 Organic pea protein, Organic cane sugar, Organic veggie blend (Organic carrot, Organic cauliflower, Organic Kale, Organic sweet potato, Organic spinach), Organic Jerusalem artichoke, Organic flavor, Organic cocoa (alkali processed), Organic flax seed, Vitamin mineral blend (Orgen-Kid®(Organic curry, Organic guava, Organic lemon, Organic sesbania, Organic amla, Organic Holy basil, Organic annatto extracts), Tricalcium phosphate, Magnesium amino acid chelate, Orgen-C®(Organic amla extract), Orgen-Zn®(Organic guava extract), Vitamin K2, Vitamin D2, Pantothenic acid, Vitamin B12, Saccharomyces cerevisiae ), Bacillus coagulans GBI-30 6086, Lutein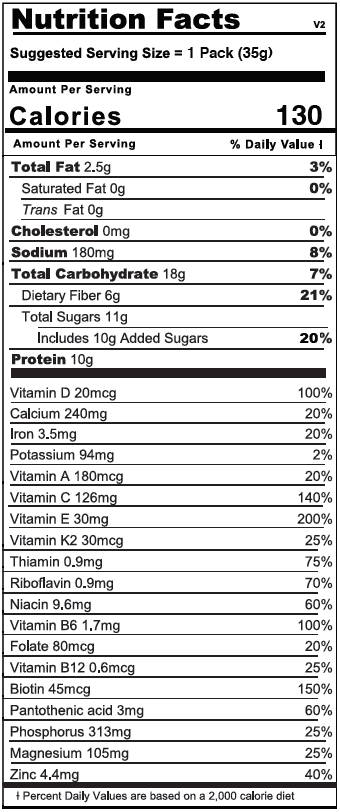 Organic pea protein, Organic cane sugar, Organic veggie blend (Organic carrot, Organic cauliflower, Organic Kale, Organic beet, Organic sweet potato, Organic spinach), Organic Jerusalem artichoke, Organic flavor, Organic flax seed, Vitamin mineral blend (Orgen-Kid®(Organic curry, Organic guava, Organic lemon, Organic sesbania, Organic amla, Organic Holy basil, Organic annatto extracts), Magnesium amino acid chelate, Tricalcium phosphate, Orgen-C®(Organic amla extract), Orgen-Zn®(Organic guava extract), Vitamin K2, Vitamin D2, Pantothenic acid, Vitamin B12, Saccharomyces cerevisiae), Bacillus coagulans GBI-30 6086, Lutein